Eficove ERP is a Complete ERP Solution
EFICOVE is a functionally strong ERP business system designed, configured and customized to enable small and midsize companies to maximize Profit, improve Efficiency and increase Customer Satisfaction.
Our system does not appertain to the philosophy of "One Size Fits All". We believe that companies have unique business requirements that can't always be solved by "Off the rack" solutions. If the software does not meet your business requirements, EFICOVE ERP can be customized to meet your specific needs.
Each module related to all the functionality to the very minute detail of EFICOVE is developed at the company. This guarantees a fully-integrated system "from one source". Customizations are easy to create and can be used with later software releases.
EFICOVE ERP as a Service (SaaS) ERP has a global reach. The Cloud ERP system connects and manages the entire operational process for organizations.
Our ERP software provides unmatched coverage and access to operational intelligence. Decisions could be based on real-time data, which enables continuous improvement and lean management.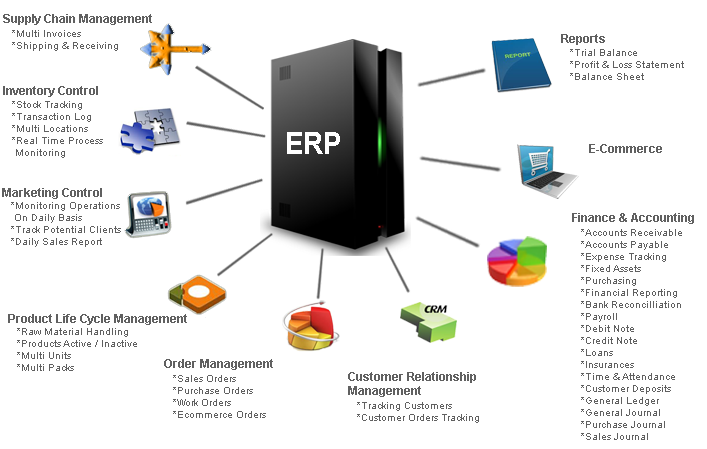 Modules – Inventory Control
Reduce Inventory Costs and Improve Tracking and Traceability With our Inventory Control module tracking, managing and controlling inventory and costs has never been easier or more efficient.
Accurate inventory may be the single most important factor in maximizing manufacturing and/or supply chain efficiency. You'll be able to reduce inventory levels and get stronger control of inventory operations. And because EFICOVE's inventory software is integrated with EFICOVE's other related modules, you get complete visibility into all demand and supply measurements across your entire corporation.



Category based inventory (i.e. finished goods, raw material and packaging).



Detailed transaction log provides a complete history of transactions against any single item.



Maintain standard costs based on cost elements with complete roll up through work in process and finished goods.



Supports non-conforming, non-allocate and default inventory locations.



Unlimited UOMs associated with purchasing, productions, sales or stocking.



Unlimited locations per inventory item.


Finance & Accounting
The EFICOVE Accounting and Financial Management software is a comprehensive accounting management program that improves visibility of the financial side of your business. Knowing how and where you spend your money, as well as where and how you receive your income, puts you in charge of monitoring cash flow and controlling costs. The result: Improved profitability.
EFICOVE Financial Software modules pick up where stand alone account packages leave off. Tight integration with all the other EFICOVE modules allows important financial data to cross seamlessly across the organization.



Accounts Receivable. Advanced, easy-to-use debit/credit posting system for managing customer receivable records including invoicing, cash receipts, and account status including history, reports etc.
Accounts receivable fully integrated with shipping.
Multiple invoice formats.



Accounts Payable. Powerful AP modules maintain vendor invoices and payments. It also provides detailed invoice and payment history and extensive AP reporting capabilities.
Accounts payable is fully integrated with purchasing.



Expense Tracking. The Expense Reporting module simplifies and expedites the expense reporting and approval process. It provides ease of use, continuity in reporting, and correct General Ledger account assignment of business related expenses.



Fixed Assets. Acquire, Accumulated Depreciation, Disposal



General Ledger. Maintains 3 separate cashbooks – Sales Journal, Purchase Journal and General Journal. Supports multi-level chart of accounts



Invoicing. Elevate cash flow with an accurate and timely invoicing system. Multiple invoice formats



Purchasing. Track vendor performance and simplify the purchasing process for a more efficient supply chain.



Financial Reporting. Powerful, comprehensive and highly customizable financial and management reports.



Bank Reconciliation: Bank reconciliation is a process that explains the difference between the bank balance shown in an organization's bank statement supplied by the bank and the corresponding amount shown in the organization's own accounting records.



Credit Notes Handles Sales Returns with or without Credit Notes



Debit Notes Handles Purchase Returns with or without Debit Notes



Loans & Insurances Manages all types of loans, periodical loan payments, interest payments. Also handles Insurances, periodical insurance payments



Customer Deposits Keeps track of deposits from customers at the time of contract signing, also return deposits



General Ledger Accounts divided into 5 main categories – Asset, Liability, Equity, Revenue, Expenses



Human Resources and Payroll. Manage and administer your HR and payroll processing and reporting requirements with a customization system that tracks employees and labor resources.



Job and Process Costing. Job Costing functionality tracks all costs of a manufactured item or a process including material, labour, equipment, outsourced operations and other resources that are directly required to produce that item. Detailed analysis and reporting tools allow you to identify the true costs and profit margins of your operation.


Supply Chain Management
EFICOVE's purchasing and vendor management capabilities reduce spending on goods and services, streamline procure-to-pay processes, and ensure compliance with corporate policies.
Employees can open and track purchase orders and other transactions themselves. Approvals policy eliminates unnecessary spending while enforcing corporate policies.



Invoice/PO matching.


Automated Purchase suggestion.


Purchase Order pre-accounting.


PO approval workflow.


Receipt of goods.


Supplier contract integration.


Supplier rating


Order Management
EFICOVE order management software gives you a fully integrated business process from sales to production to purchase.
With our order management capabilities, your sales team can easily convert quotes into approved sales orders, for which finance can create invoices with one click. EFICOVE also integrates delivery order fulfillment with work order and/or purchase order, depending on the real time inventory status.

From sales executive to shop floor supervisor, everyone within your organization gains role-based real-time visibility into order trends, status and sales history enabling them to streamline the order management process, identify bottlenecks and resolve customer queries quickly. Management can monitor sales performance, support team can do order tracking, sales representatives can check delivery schedules in real time.

Available at your fingertips is order status, scheduling details, inventory availability, shipment tracking, invoicing and more. Web access empowers your customers with orders, invoices and their profile information.



Sales Reporting & History


Order Processing


Shipping & Invoicing


Work Order Suggestion


Purchase Order Request


Finished Product Configurator


Real-time order review and tracking


Configure complex products to customers' specific requirements


Full product history and traceability


Save time and money by assisting and expediting the exchange of critical order data via Electronic Data Interchange.

Customer Relationship Management
EFICOVE provides a comprehensive Customer Relationship Management system with features to establish strategies, manage day-to-day communication, and organize the sales/service effort.

Maintaining customer data


Tracking customers


Searching customers


Customer orders tracking


Customer sales history


Open status orders

Product Life Cycle Management
The Product Master module is specifically designed for the efficient creation of new standard products. This module combines Item Master records, Bills of Material, and Routings into a single module.

Work orders


Integrated production receiving


Finite work-center based scheduling


Capacity and manpower planning


Labor efficiency reporting


Indirect labor tracking


Process-based work order instructions

Marketing Control
EFICOVE provides a system that keeps track of marketing executive operations on daily basis. Sales manager can monitor his executives' day to day activities; also control the planning for the next day for each executive.

Monitor Marketing operations on daily basis


Control Marketing activities on executive basis


Track potential clients


Next day planning


Daily Sales Report


Daily Collection Report

Reports
Powerful, comprehensive and highly customizable reports.

General Journal


Purchase Journal


Sales Journal


General Ledger


Trial Balance


Profit & Loss statement


Balance sheet

Ecommerce
EFICOVE ECommerce software is designed to make commerce easy for you. It is more than just a product that adds shopping cart to your website. EFICOVE ECommerce has a modular structure, is complete & customizable and could be integrated with our ERP system.
Our Ecommerce software sells products on Internet, manage Shopping cart, setup online store Ecommerce is a simple concept-



See the products that fulfills your demand


Place them in virtual shopping cart


Finish browsing


Checkout


Provide shipping details


Provide Payment information


Close Transaction